Athena was joined on Friday 15th July by Tim Owen, one of the 3 dads walking, and a film crew from the BBC.  Tim was visiting to see the new Sanctuary facility – a wellbeing space that students are free to use to relax and reflect in.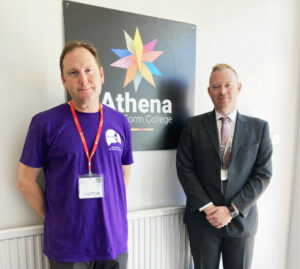 Tim visited the Sanctuary and spoke to students about their views on suicide prevention and mental health awareness.  Tim, and the other 2 dads, will be embarking on their second fund raising walk in September to raise funds and awareness for the charity Papyrus.  Students from Athena will be walking part of the route with the 3 dads in October and Tim said he was looking forward to seeing the students on the walk.
Reporter Alison Freeman and Tim spoke to Mr Pettitt, Director or Athena, about the role of schools in helping to educate young people about how to speak about suicide prevention and mental health.  The film will be shown on BBC Breakfast on Wednesday 20th July.